Core Leader on the Fosway 9-Grid™ Digital Learning 2023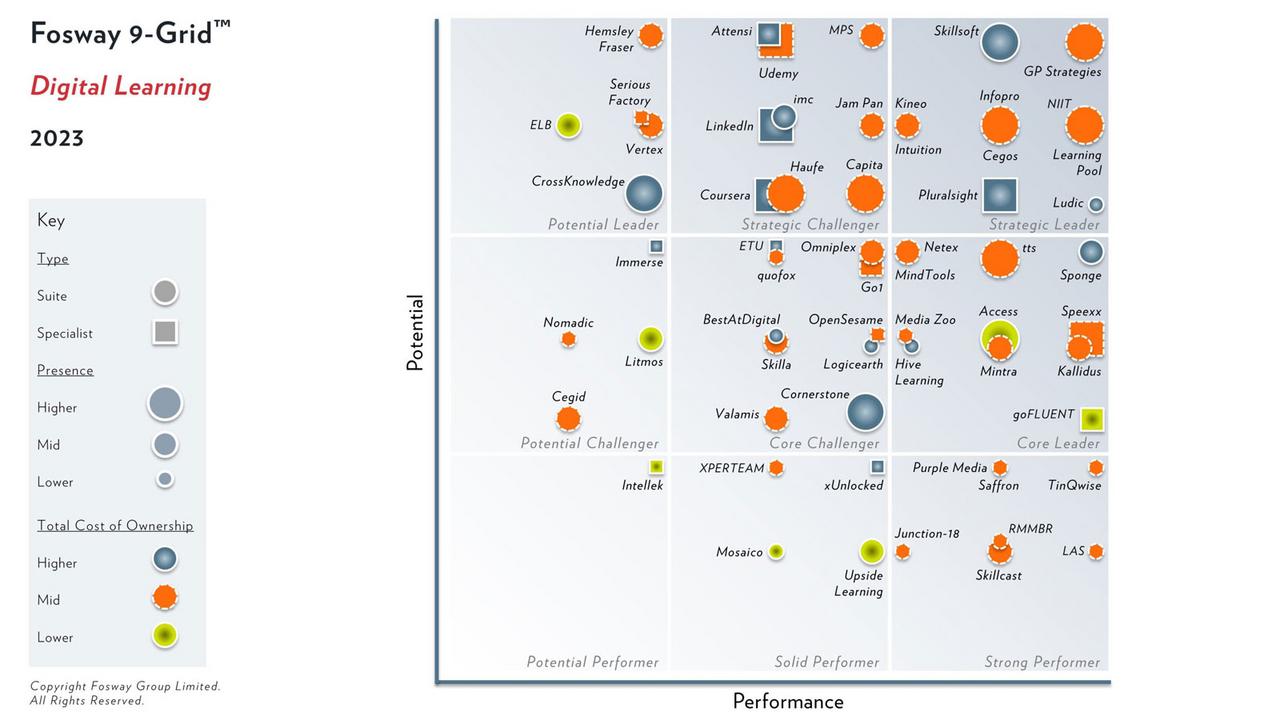 Heidelberg, May 26th 2023. Once again the rigorous evaluation by Europe's #1 HR industry analyst judged tts to be high performing company in the Digital Learning marketplace, which also manages to maintain a mid-level total cost of ownership and significant market presence. That makes tts a Core Leader. Companies designated as Core Leaders demonstrate a strong suite of capabilities and high levels of customer delivery and advocacy, alongside a good track record in terms of enterprise win rate.  
During the assessment process, tts proved able to highlight a comprehensive and holistic portfolio of enterprise-ready solutions: spanning traditional learning, e-learning, VR, digital adoption, and performance support, as well as training needs analysis and strategic L&D design. The company is renowned for its digital adoption solution 'tts performance suite' and its ability to create, curate, and deliver custom content in the moment of need. Other notable capabilities include the creation of immersive learning environments and virtual learning. 
The 2023 Fosway 9-Grid™ for Digital Learning delivers a unique and objective analysis of the European HR and learning technology markets, enabling companies and professionals to make informed decisions around their solution needs. Digital learning providers are ranked in a multi-dimensional model based on their relative position against five key indicators: performance, potential, market presence, total cost of ownership, and future trajectory. 
"tts provides an innovative approach to learning through simulations, video, podcast as well as traditional e-learning," said David Wilson, CEO, Fosway Group. "The company's position as Core Leader on the 2023 Fosway 9-Grid™ for Digital Learning reflects its ability to consult, design, deliver and manage transformative learning solutions for customers." 
Dr. Rolf Zajonc, Managing Partner at tts, said:  
"Securing Core Leader status is testament to our ongoing efforts to pioneer innovative solutions for user adoption that can be integrated into any system environment. It is recognition of the way in which our tts performance suite spans the entire learning continuum across the five key moments of need while smoothly integrating with our customers' landscapes and tools. Fosway's study recognizes that digital learning in a corporate setting only works as a holistic combination of concepts and technologies, and that is precisely what we have set out to achieve as we press forward with our efforts to revolutionize the learning experience." 
---
tts digital adoption solutions 
The roll-out of new software and digital transformation can only be successful when the processes and technologies involved are customized to the people using them. tts performance suite supports your employees as they perform their actual tasks. If they have any questions, the digital adoption platform offers real-time support for complex business processes and IT applications. tts performance suite gets the digital transformation going – ensuring the success of your software investment. 
Fosway 9-Grid™
Fosway Group is Europe's #1 HR Industry Analyst. The Fosway 9-Grid™ provides a unique assessment of the principal learning and talent supply options available to organizations in EMEA. Now in its eleventh year, the analysis is based on extensive independent research and insights from the Fosway Corporate Research Network of over 250 customer organizations, including BP, HSBC, PwC, RBS, Sanofi, Shell, and Vodafone. 
Visit the Fosway website at www.fosway.com for more information on the Fosway Group's research and services.
---
Experience tts performance suite live!
See for yourself and schedule a demo appointment. Our team will be happy to show you how to take advantage of the tts performance suite for your business. Simply fill out the form and we will get in touch with you as soon as possible.